Products


Original paintings, pastels and prints
Video of our combined Jewellery and Art show based on A Year at Wicken Fen at the Babylon Gallery
Natural Rhythm
A Year at Wicken Fen
Carol and Bob Banks
A long-term project in which the
ever-changing landscape and sound
scape of Wicken Fen was observed
and recorded during the period of a
complete season.
Regular observations and recordings
were made using sketches, paintings,
photography and filming.
The result is a body of work revealing
the changing face of Wicken Fen as
the seasons progressed.
After a career in media I've
returned to painting
I graduated from the Berkshire College of Art in 1976 and
worked as an Art Director in leading London advertising
agency Everett's and later as a Creative Director at Ogilvy
& Mather on Waterloo Bridge.
I was then a partner in Presentation Design, a Hatton
Garden art studio producing visual work for many of the
major London ad agencies.
I always had a great interest in animation and set up
Animation Studio Ltd in 1988 and since then I've been
fortunate enough to work for many of the UK's top
companies producing TV commercials, corporate and
training videos.
I still run Animation Studio Ltd but now spend more time
on painting and drawing.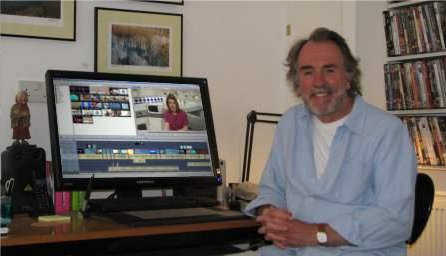 My wife Carol works with me in our
Cambridgeshire studio, producing exquisite
Silver Clay jewellery.
We often work on the same project - I produce
paintings that show the bigger picture while Carol
produces jewellery that relates to the very small details
of a particular subject, location or theme.
An example is shown in the video below, where we
jointly produced a show following a year at Wicken Fen
- an extraordinary local nature reserve.
Carol produced Silver Clay jewellery taking castings
from reeds and seed heads and hand carving
dragonflies.
Carol used ancient
bog oak, dug up after
being buried for
thousands of years in
the Cambridgeshire
Fens to display her
jewellery.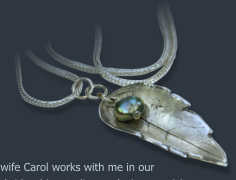 Carol Banks Jewellery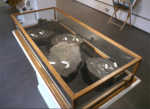 We are opening our studio
in July as part of
Cambridge Open Studios
Cambridge Open Studios is a
flourishing community of artists,
craftspeople and designer-makers
working throughout
Cambridgeshire. Our aim is to help
bring artists and local people
together, providing opportunities
for the public to visit the
workshops and studios of people
working in a wide range of crafts
and media, including: furniture-
makers, sculptors, jewellers, print-
makers, textile artists, graphics and
multi-media, potters, photographers and painters – to talk directly to them about the
techniques they use and the passions that inspire them.
Cambridge Open Studios July this year
This summer over 260 artists
will take part in our annual
Open Studios event, inviting the
public into their work places
over four weekends in July. A
huge variety of work will be on
show in a wide range of media.
Details of the artists taking part
can be found on the Open
Studios website.